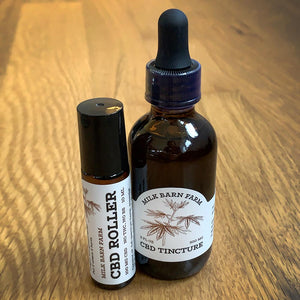 To celebrate our fifth birthday, we're bundling our original two products and taking five bucks off.
Our Original CBD Tincture was where it all started! Made from our farm-grown hemp flower with a touch of mint oil, it's full-spectrum relaxation in a bottle. Take one dose for a little extra calm during the day, or two to help you get a good night's sleep.
And our Original CBD Roller is made from the same flower, but lab-extracted for higher potency, with essential oils of peppermint, eucalyptus, and ginger for topical pain-killing effects. Put it where it hurts.
They work better when used together! And the bundle makes a great gift for someone new to CBD.
Great products
I've been using both of these product for years and love both. They are both effective for me for pain relief (ymmv) and the tincture also seems to have calming qualities for me. I've used other CBD brands but I like Milk Barn.
Wonderful customer service
My package arrived broken, and they sent me another one super fast. Their service can't be beat, and their service is fantastic. Love these guys.