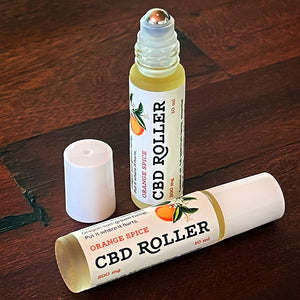 New! Your skin and muscles have CBD receptors! That's why CBD can have painkilling, muscle relaxing, and inflammation fighting effects when applied topically. Our buyers report they've found relief using the Roller for everything from soothing bug bites and eczema to treating pain from arthritis and carpal tunnel syndrome.
Our Rollers are made with the same craft hemp flower grown here on the farm as our Tinctures, lab extracted for even higher potency. The Orange Spice Roller combines that with essential oils of orange, cinnamon, and camphor for additional soothing effects, with twice the CBD as the Original.
Easy to pocket for relief on the go, great for sore muscles and topical pain, and leaves your skin soft and smelling great.
Bottle size: 10 ml.
Total CBD: 200 mg. (2x the Original.)
Smell: Orangey and crisp.

Orange, cinnamon, and camphor.

Coconut oil base.
See Also: The Original Roller
Great holistic solution to pain
Love the Orange Spice Roller for neck pain and headaches.
I roll it around my hairline and the back of my neck. Works everytime! Better than the OTC alternative and works faster. I also use it as a lip gloss.
My second roller purchase and love all the scents. Excellent product!
Love this stuff
I've been using the classic CBD roller for a long time and decided to give Orange Spice a try. It works just as I expected. It takes the edge right off my achy knees and to top it off it smells fantastic.
Needless to say I recommend it.
It works!
This smells and feels lovely. I can really notice a difference when I use it. Recently I had a pretty bad bout of neck stiffness and I'd notice a real difference on the days I'd forget to use it.
A nice addition.
My favorite tincture is Orange Spice. Trying the roller ball in same family was a no brainer.
The scent is pretty mild and not at all medicine-y. Limited tingle on skin. Easy to use on a daily basis.
ahhhh-mazing
I am in love with this orange spice roller. I'd been a CBD skeptic before, but not now! I have a bit of arthritis in my fingers from years of doing trapeze, and just a little of this on my aching joints relieves the pain. The smell is very subtle and lovely, and it looks like this one bottle will last for ages. A+++++