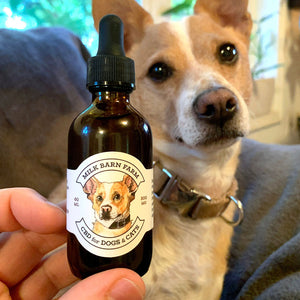 Hemp oil is great for dogs and cats. It helps with nervousness, separation anxiety, stress, and physical pain. And it's a real blessing for older pets.
Our Pet Tincture is similar to the human version, but we use a different coconut oil (it's a little more nutty – pets preferred it in our tests) and we don't add anything extra. The CBD is from the same plants we grow here on the farm in the Oregon sun, treated with the love and care we give to all our plants and animals.
We give this tincture to our own cats and dogs when they're in pain or suffering from stress or anxiety. Be aware, it can make them sleepy. It's simple to use – just add it to their usual food – most pets enjoy the taste. Start with one dropper and increase for larger pets or greater need.
Total CBD: ~300 mg.
1 mL Doses: 60.
CBD per dose: ~5 mg.
Pet remedy
This product is the most effective one I have used so far in calming my dog's anxiety.. she just turned 11, so I've had a lot of time to try different solutions.. works pretty well for humans too!!
May be working?
I have only tried it twice so far and both time I was not home to see if it calmed my dogs anxiety. Today, I will be trying it while I am home and monitoring him. His anxiety is highest when we leave the house. I can say, I did notice that the house was not in shambles the two times I did administer the CBD, so I am very hopeful! Thank you!
Been using this for a couple years
I've tried others, they don't help the way this stuff does. All the Milk Barn Farm products I use are with every penny!!
Thank you for helping me and my dogs 💙
Perfect for my kitty
really makes a difference in quality of life for my 15 year old cat who has seizures!
The best out there!
We adopted a cattle mix puppy from a rescue group. We noticed early on that she was always on alert and not in a good way. She was stressed and it was tough on us and the other animals in the house. This has helped her calm down in the evenings and, on those rare occasions during the day, when she's being very edgy during the day.